October 31, 2016
Two months into their training, the six students of the construction technology class at the Dwayne Peaslee Technical Training Center are about to put up their first house.
Leaning against the wall Monday of the large room at Peaslee that is both classroom and workshop for the students were framed walls of a cabin, which are to be erected later in the week on a previously constructed floor. As he points out its features on a blueprint, course instructor Justin Mossman said the 624-square-foot residence will be a well-appointed cabin. It will have a bedroom, bathroom, kitchenette and office/parlor.
"It's a pretty good-sized project," said Mossman, who teaches the Neosho County Community College class at Peaslee. "I'm sure I could live well in it."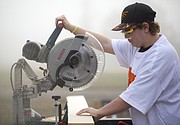 The students are building the cabin for Greenbush Cabin. Although he doesn't know the cabin's final destination, it's built to be the residence of a camp counselor at a lake, Mossman said.
The six students in the class will do all the carpentry work, from rough framing to finish, he said. Local contractors have agreed to provide the electrical, plumbing, heating and air-conditioning work.
The students are learning more than how to frame walls, install siding, hang doors and trim out interior details, Mossman said. The students will leave the class with hands-on experience in construction fundamentals, but also receive instruction on safety — a big emphasis of the class in an industry increasingly reliant on power tools.
Those fundamental skills and safety awareness coupled with the reputation of the course will give graduates an advantage over those who enter the construction trade by hiring on as a laborer, Mossman said.
"One thing contractors don't know when they hire is if that person will work out or not," he said."I have 23 years of construction experience. Over the years, I've built relationships with contractors. They know our students leave here with the construction fundamentals and the soft skills they need, like showing up every day on time."
At 16 years old, Sylvester Wilson is making the most of the second chance he found at Peaslee.
The Lawrence teen said he had been away from school for some time before he started GED classes at Peaslee. He approached his classes with a new focus and purpose, an attitude that his father, Matthew Wilson, noticed.
"My dad said since I seemed to enjoy school since I got back into it, maybe I should look to start with some more classes," he said. "I talked with some instructors, and they set me up."
Because he hasn't officially earned his high school diploma, Wilson was accepted into the class through the Accelerating Opportunity Kansas program, which provides free technical training tuition for those pursuing a GED.
His goal is to one day start his own home remodeling business like the one his father owns and at which he works part time, Wilson said.
Mossman said two of the other students in the two-year class are Free State High School students, one is a Lawrence High School student, and two are adults. They will find their skills much in demand when they graduate the course, he said.
For the fourth-consecutive year, skilled trades topped the list of ManpowerGroup's 2016 survey of positions employers have difficulty hiring, Mossman said. It's a demand that won't end soon.
"Three skilled tradesmen are retiring for every young person entering the trades," Mossman said. "The average age of people in the trades is over 50."